Have you been to the Philippines, or at least had lived most of your life in this country? Have you experienced this event that I call "Circus"?
I am talking not about the circus show that are normally seen on Fiesta, wherein they showcase rare, and out of this world talents. This circus show has more than those flying trapeze, or man-eating fire. To give you the clearer picture, let me describe you this circus with some photos I got over the internet:
need i say more? it's colorful!
despite all the notices that the COMELEC gives, that major streets must be cleared from all these paraphernalia, but what do we see everyday? Another sad thing that I noticed were those banners hanging around our barangay hall, bearing some names of politicians. My cousin did mentioned to me also, a very big banner along E.Rodriguez Avenue (yup, it's an AVENUE where it is prohibited) bearing the FACE AND NAME OF THE RICHEST PRESIDENT-WANNABE (you just do the guessing, i would not give a clue, not even if you'd ask me to bathe in a sea of trash).
(this photo is not current, but from years ago)
Awaken by various cars and trucks and jeepneys playing catchy jingles every now and then. It's no different from a promo car announcing that the circus is coming and will be performing live shows. The only difference is, that these jingles, along the streets and by the TV are painful to my ears (note, I pertained to my ears, this is my personal opinion) and are just empty music. No meaning, no important message, EMPTY. When a music is empty of meaning, it is not a music, but rather NOISE.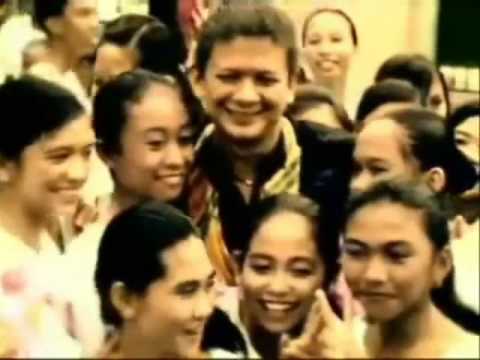 and after hours of motorcade aboard a car with hundreds of convoyed supporters, they will go to the slums, shake hands and hug people by the streets, making sure there are eyes to see of course, and camera if possible and after all the hand shakes and hugs and picture taking, they will immediately go back to their cars, close thee door, and utilize bottles of alcohol with squinting eyes. That's what I call...
Funny, these politicians promises a lot of things, including a better environment, but look at how they pollute the country. Look at how messy they make the country look, how can they attract tourism with all these dirt? How they contribute to air and sound pollution. Do they live up to their words? I don't think so. They always make themselves visible on public places, and utter inhumane things against the other candidate, but when the RIGHT PLACE calls for them to have a FACE-OFF (NOTE: HARAPAN 2010), they all turn their backs and give their own alibis. How can the countrymen believe you when you are so afraid to face your opponent and answer impromptu questions from the people?
I love circus. I love the vivid colors and the uniqueness of personality of the people performing for the circus. It alleviates sadness and gives happiness and child-like feeling. But I hate how politics try to be a circus, just to attract people.
I hope these wanna-be's will understand, that politics is not just about attracting voters. POLITICS IS ABOUT DOING SOMETHING FOR THE COUNTRY MEN. You do not need to be from the poor nor be the richest, nor be a son or daughter of a politician or a hero. YOU MUST HAVE A HEART INTENDED FOR THE PEOPLE. YOU MUST HAVE THE KNOWLEDGE AND UNDERSTANDING OF THE LAW AND DEMOCRACY.
As a politician in Philippines, YOU ARE ONLY A REPRESENTATIVE OF THE WHOLE NATION, so do not think that this campaign must always be about you. It must be ABOUT US, FILIPINOS.
Di kelangan na nakaligo ka sa dagat ng basura, o anak ng mabuting lider. Kelangan ng bansa ng taong marunong mamuno sa malinis na paraan, at tuturuan ang bawat Pinoy kung paano iaangat ang kanyang sarili sa kabila ng kahirapan. Hindi kailangan ng Pinoy ng himala o biglaang yaman para lang makaahon sa kahirapan o gutom. Sabi nga ni Jesus Christ, bigyan mo ng isda ang taong nagugutom at sya ay mananatiling gutom, ngunit turuan mo syang mangisda, at di sya magugutom kaylanman.
Teach men how to fish, teach Filipinos how to alleviate themselves, then, you give the country a big favor. When a Filipino knows how to work for their living, JUAN TAMAD will be just part of the history, then more investors will come. Big investors then will believe, Juan Tamad is dead, Filipinos are worth it to give them jobs. Then, one by one, we can pick up the pieces, and we shall rise again.
We did it before, ask your parents or grandparents who saw it through Marcos's time. He might be a dictator, but he did showed that Filipinos can be disciplined, and are hardworking. Marcos made it possible for the country to be one of the richest in Southeast Asia.
So, fellow Filipinos. It may be Circus time once again. But, I appeal to you, read between the lines. Learn to read their faces. Look through their hearts. Study what they have done in the past. Use our brains, and not our hearts when voting. Di ka ba nagtataka na preserved talaga ni Villar ang bahay nila sa Tondo para sa eleksyon na toh? Di ba napaka-showbiz ng lahat? Lahat ay planado, pagkat ginagamit nya ang paniniwala na ang mga Pinoy ay maawain, at palaging lamang sa puso ng Pinoy ang mga inaapi.
Di natin kelangan ng mala-telenovela na buhay ng isang politiko. Di natin kelangang mabingi sa mga jingles nila. Di din naman talga natin kelangan gawing isang malaking CIRCUS TOWN ang Pilipinas. Lahat sila nanungkulan na bilang Mayor or Senador or Congressman or direktor ng iba't ibang sangay ng pamahalaan.
Tingnan natin ang nagawa na nila
, wag nating pakinggan ang pangako nila. PROMISES ARE MADE TO BE BROKEN. We need someone who will fight for the Filipinos against oppression, not to fight against other leaders because of position.
Welcome to Circus Town! The Circus has just started. Enjoy the show while it lasts. The Circus will only be until June 30th of 2010.
AND
don't forget
to
VOTE
for yo
u
r
FAVORITE CIRCUS PERFORMER